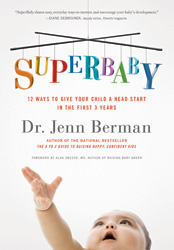 SuperBaby:
12 Ways to Give Your Child a Head Start in the First 3 Years of Life
Published by Sterling Publishing


Press
Los Angeles Times- The Importance of Reading
Los Angeles Times Best Seller List (3 weeks)
Los Angeles Times Best Seller List (#20 Hardback)- October 24, 2010
Los Angeles Times Best Seller List (#19 Hardback)- October 10, 2010
Family Magazine Group- Avoid Power Struggles
Los Angeles Times Best Seller List (#3 Hardback)- October 3, 2010
Babble- Top Toys for Toddlers
Parents Magazine- The Talk Show (link to scan of images and place after LA Times)
Publishers Weekly

SuperBaby might just replace Dr. Benjamin Spock's Baby and Childcare, as the epitome of guidebooks for new parents. SuperBaby is a comprehensive yet easy to read "handbook"…
- Libby's Library News

Wondering what others are saying about SuperBaby? Check out the latest reviews and buzz…

Mommy Blogger and Other Online Reviews
Momma Drama
I'm a Full-time Mummy
Southern Girl Ramblings
Coupon Clippin' Mommy
Baby Vibe
The Baby Bottom Line
JDaniel's 4's Mom
Tidbits from a Mom
My Springfield Mommy
Baby Brandon's Adventures
Family and Life in Las Vegas
MADreads
Jen's Lists
Mummy Reviews
Buzz4Moms
Katie Talks About
A Maui Mommy
Momma Drama
Jumpin' Beans
Libby's Library News
Empowering Mommy
Reviewed By Mom
Tidbits from a Mom
MADreads
Parental Views Online Magazine
Little Butterfly Kisses

Interviews
Momtastic- Work, Life & Balance: Dr. Jenn Berman
The Twin Coach- Interview With Dr. Jenn Berman, Author of "SuperBaby"
Motherhood Later… Than Sooner
Bittersweet Existence- Parenting Mysteries Solved… Sort Of. An Interview With Dr. Jenn Berman
North Jersey Magazine- Give Your Baby a Head Start
Motherhood Later Than Sooner
A Bittersweet Existence
Mr. Dad Radio


Radio Interviews
The Commentary with Joseph Planta
Positive Parenting Radio with Armin Brott

Blogs and Articles
SheKnows- Planning Ahead, Thinking About Spanking
Buzz For Moms- New Ways to Handle 6 Typical baby and Toddler Scenarios
Making Time for Mommy- 6 Tips To Encourage Language Development
Baby Talk for Pregnancy Magazine
Helping Baby Go Vintage
Top Toys for Tots for Babble
Dr. Jenn on Tantrums for The Pump Station
Making Time for Mommy- 6 Tip to Encourage Language Development
New Parent- The Toys You Should Buy

The SuperBaby Gossip
News traveled fast after Dr. Jenn was asked to sign a SuperBaby book for Mariah Carey who has been rumored to be pregnant. The story was covered by FoxNews, HollyScoop, and USA Today . This story spread like wildfire and reached as far as India and the Philippines.

The definitive guide to children's mental, physical, and emotional health—
and a trusted reference parents will refer to over and over again.
Simple Tips, Tools and Techniques for
Encouraging a Child's Optimal Development
The first three years of life are the most important for nurturing a child's full potential: that's when children start forming attachments, developing a sense of self, and learning to trust. These early experiences can greatly influence brain development. There are critical windows of opportunity that parents can take advantage of—if they know how. In a dozen succinct, information-packed chapters, award-winning columnist, child therapist, and mother Dr. Jenn Berman gives parents the knowledge they need.

Enlightening sidebars, bulleted lists, and simple tips make this thoroughly comprehensive reference easy to use. A classic in the making, Dr. Jenn's book will help parents raise happy, healthy babies who grow to be flourishing toddlers and successful adults.
Easy steps to reduce resistance and avoid tantrums
The two "Qs" parents need to know about to promote language development
When and how to start reading to your child
Use play to help children develop key social, intellectual and emotional skills
The three ASL signs that will make your baby's life easier
What parents really need to know about kids and television viewing
Take advantage of significant learning windows to introduce a second language
Develop a "healthy eater" and avoid or resolve feeding issues
The seven most important contents to avoid in your child's food
Simple steps to reduce toxic chemical exposure in the home and have a healthier family
With "From the Experts"contributions by
Dr. Harvey Karp * Dr. Bob Sears * Dr. Jane Nelson * Jim Fay & Dr. Charles Fay * Ruth Yarron * Sir Richard Bowlby * Betsy Brown Braun * Jill Spivack & Jennifer Waldberger * Dr. Tanya Remer Altmann * Dr. Scott Cohen * Rachael Cole of Signing Time! * Healthy Child Healthy World * Campaign for Commercial-Free Childhood * Alliance for Childhood * The Environmental Working Group * and many more…

REVIEW: PUBLISHER'S WEEKLY
Superbaby: 12 Ways to Give Your Child a Head Start in the First 3 Years
Jenn Berman, Sterling, $24.95 (388p) ISBN 978-1-4027-7033-3
Berman (aka Dr. Jenn), a Los Angeles psychotherapist and author (The A to Z Guide to Raising Happy, Confident Kids), focuses on development in the first three years of life. The mother of toddler twin girls, Berman quickly points out that her purpose is not to create an "uberbaby." In fact, the author flatly rejects such approaches as Baby Einstein, flash cards, and "infantainment." Instead, she guides parents though 12 crucial steps that help children grow intellectually and emotionally, devoting well-researched chapters to communication, responding to cues, creating predictability, the importance of touch, language development, sign language, foreign language, reading, play, the hazards of screen time, living green, and food and nutrition. Berman threads the work of respected parenting experts and scientific evidence throughout her text, shoring up her message that the first three years are vital for forming attachments, developing a sense of self, and learning to trust. In each chapter, she explains both why and how; for instance, play helps kids problem solve, and, among other benefits, aids in social development and impulse control; she follows up with creative toy and play ideas. The author doesn't just talk the talk; in her chapter on language, she notes that her own toddlers have learned Spanish and Mandarin Chinese. Berman's absorbing new book will help parents give their youngsters a nurturing head start and a firm foundation for growth and learning. (Sept.)
Superbaby shares easy, everyday ways to nurture and encourage your baby's development. Dr. Berman's #1 goal is to help you raise a happy, healthy child.
- Diane Debrovner deputy editor of Parents Magazine
This book is the best book about child development in the first three years that I have ever read. It's incredible! It is a blessing to parents and to the world. It is so complete, well-researched and informative! SuperBaby is a must-read before the baby comes, and then a must re-read after the baby comes. This book is a surprising eye opener and will help parents learn how to raise happy, healthy, well-adjusted children. I just can't say enough about it!
- Ruth Yaron, author of Super Baby Food
Dr. Jenn does a masterful job of blending research, practical tips, and a mother's hard-earned wisdom. Every mother needs to keep this book within arm's length.
-Jim Fay, Author and Co-Founder of the Love and Logic Institute, Inc.
SuperBaby is more than a primer on binging up Baby—it is all about making profound connections with our children and understanding the unlimited value of mutual trust and respect. Anyone with young children will find this book very helpful and encouraging.
—Jane Nelsen, author and co-author of the Positive Discipline series.
As someone who has spent a career helping men develop the skills and confidence to be great fathers, I truly appreciate what Dr. Jenn Berman has accomplished in SuperBaby. This terrific, informative, research-based book demystifies the first three years of life and is filled with hundreds of usable tips dads (and moms) can use to help their baby grow stronger, smarter, and healthier. It's a resource no parent should be without.
-Armin Brott, author of The New Father: A Dad's Guide to the First Year and Fathering Your Toddler: A Dad's Guide to the Second and Third Years.
"Dr. Jenn's unplugged approach to parenting is a breath of fresh air.In SuperBaby she clears the way to good, instinctive, relationship-based parenting."
—Michele Borba, Ed.D., internationally renowned educator, parenting expert, and award-winning author of 23 parenting books, including The Big Book of Parenting Solutions: 101 Answers to Your Everyday Challenges and Wildest Worries
Dr. Jenn Berman's "super baby" is emphatically not an achieving automaton, but simply one who is super—empathetic, playful, creative, and actively engaged in the world. Basing her recommendations on the best available evidence, she provides essential and practical suggestions for 21st century parents.
—Dr. Susan Linn, director of the Campaign for a Commercial-Free Childhood and author of Consuming Kids: The Hostile Takeover of Childhood and The Case for Make Believe: Saving Play in a Commercialized World.
"As parents it is our responsibility to seek insightful, credible, and useful information when raising our children - this book has it all! Your child's healthy, happy, and successful future depends on YOU."
- Christopher Gavigan CEO and Executive Director of healthy Child Healthy World and author of Healthy Child Healthy World: Creating a Cleaner, Greener, Safer Home
This book is not about raising super babies; it's about raising parents' consciousness. With a professional's expertise and a mother's experience, Dr. Jenn Berman addresses many of the issues that are of special concern to parents of infants and toddlers. Seasoned with warmth and a touch of humor, SuperBaby is easily readable and chock-full of invaluable information. It is one-stop shopping for new parents and a must-have for their reference libraries.
—Betsy Brown Braun, Child Development and Behavior Specialist
Author of Just Tell Me What to Say and You're Not the Boss of Me